Our Vision
Merriweather District is the first holistic deliverable of Downtown Columbia. It's the heart and soul of the third city between Baltimore and Washington, DC. This new amenity-rich and walkable district is surrounded by Merriweather Post Pavilion and Symphony Woods. It is a vibrant hub of culture & commerce, offices, shops, restaurants, apartments, structured parking and parkland. We are creating a place where minds are open, creativity is unleashed and new ideas take shape. To accelerate business. To promote progress. To build a better tomorrow.

Merriweather District is an all-new destination for culture, commerce, food and a reimagined lifestyle.  With new restaurants, services, places to work and Color Burst Park you'll find space to live your best life.
At full build out, Merriweather District will deliver:
2.3 MM SF Office
1900 Residences
320K SF Retail
Enhanced Merriweather Post Pavilion
250 Hotel Rooms
60 Acres of Protected Open Space
Color Burst Park
Three Districts

the hub for culture and commerce
Explore the lay of the land.
Columbia is consistently rated among the best cities in the nation to live. Situated between two great cities, it's close enough to Baltimore and Washington, yet far away enough to have its own bold expression. The dynamic transformation of Downtown includes corporate headquarters, new businesses, places to live, paths to explore, music and entertainment venues, restaurants and more.
Art in our Community
Our commitment to culture and the arts
Merriweather District is the regional hub for culture and commerce. At its heart is the famed Merriweather Post Pavilion. Recognized by Rolling Stone as one of the top amphitheaters in the country. Merriweather Post Pavilion has been dazzling concertgoers for generations. Janis Joplin played here, and so did Taylor Swift.

Culture has deep roots in our community. Visitors to Merriweather District have come to expect innovation.
Books in Bloom
Since 2017 the region's most progressive book festival takes place in Color Burst Park. This celebration of literature provides fun for all ages, and presents thought-provoking authors focusing on activism and open dialogue. Books in Bloom has served as an enduring expression of Columbia's love of literature.
Artists-in-Residence
Howard Hughes, in collaboration with the Howard County Arts Council, has presented Merriweather District's Artists-in-Residence (MD AIR) program since 2018. Selected artists spend up to two months creating works in mediums of their choosing. The work is presented to the community at free exhibits in Merriweather District.
Throughout Merriweather District, visitors experience public art installations, outstanding architecture, exceptional restaurants, and free concerts and children's events in Color Burst Park.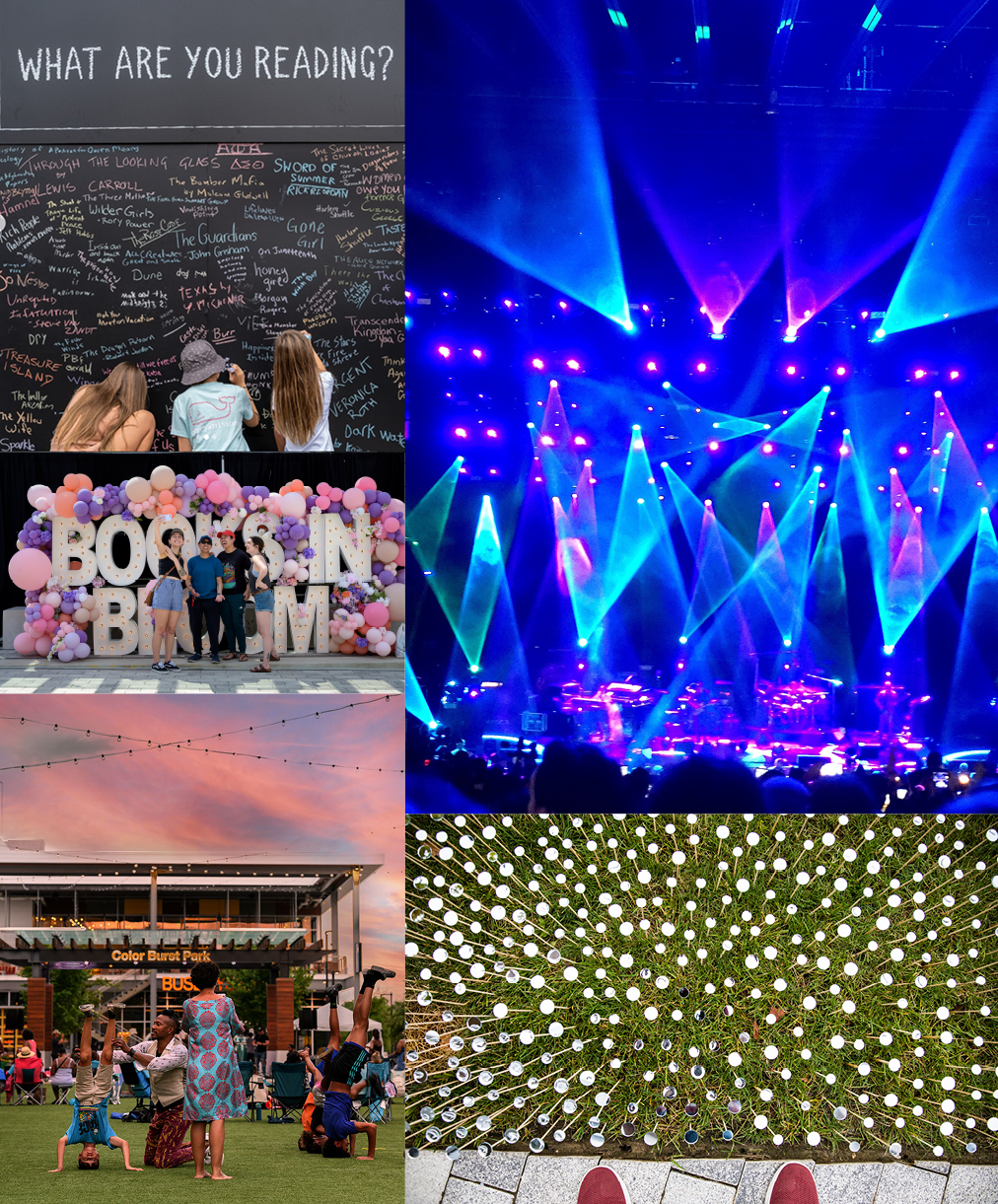 Legacy
"People will rise to the big and the dramatically good. They will yawn at the timid, the unconvincing."
Founded by James Rouse over 50 years ago, Downtown Columbia is based on social ideals and progressive development. Originally called "Next America," it influenced generations of urban planners and continues to elevate the notion of what a modern city can be.